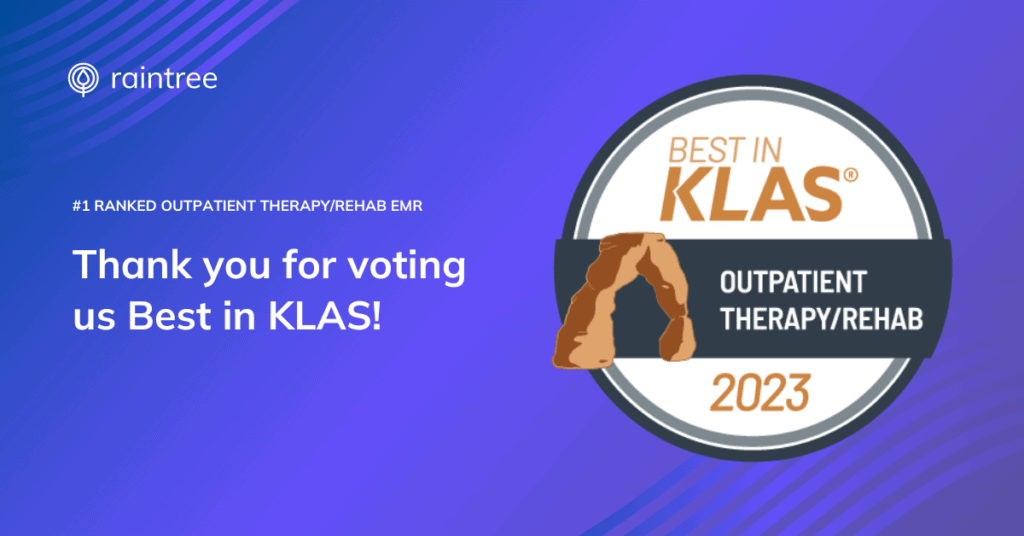 In the Words of Raintree Clients
It's always gratifying for the Raintree Systems team to receive positive feedback from our
customers. And recently we heard plenty of good things from our customers through KLAS
Research, which has designated Raintree the 2023 Best in KLAS for Outpatient Therapy/Rehab.
Our award was announced in the 2023 Best in KLAS: Software & Services Report, which is based
on thousands of verified customer interviews conducted by KLAS Research over the previous
year. This award is validation from our customers; it's not given to us by a panel of experts.
Rather, it's entirely based on KLAS going to our customers as well as our competitors'
customers and continuously surveying them about their user experience.

We are honored to be recognized by KLAS Research for our outpatient therapy/rehab solutions.
But we're especially proud of what many of our customers have been saying to the research
firm over the past year about our clinical and billing platform. These testimonials by actual
commercial users speak volumes about our ability to understand customer needs and deliver
solutions that work.
Check out these examples below:

"The product is pretty simple to use, and it is pretty user friendly. I also like Raintree Systems'
support. Raintree Systems has webinars every week on different topics that are always very
helpful. If Raintree Systems shows us something, they can explain what they are doing, how to
do it, or what the purpose is. Raintree Systems makes changes when people request them if
they can. Raintree Systems is good to work with." – Analyst/coordinator, January 2023
"The people who helped us go live at the beginning were phenomenal; we can still go to those
people if we need to." – CEO/President, January 2023

"Every year, Raintree Systems has a conference that the customer can attend to go to learn all
the newest things and network with other people. They went back to having an in-person
conference, which is definitely worth it for us to go and take part in. I feel really good about the
software, and over the years, if there was a report that we didn't have, we would work with the
vendor to get that. When we had to go to telehealth when the pandemic hit, the vendor
worked well with us to get things up and running. Overall, we have been very satisfied with the
software." – Manager, January 2023

"TherapyRehab Plus is easy to use, and the reporting is fantastic. We can report on anything we
put into the system. The vendor's staff is very enthusiastic about helping, and their user group
is amazing." – Director, November 2022

"We do a lot of custom work with Raintree Systems, and I must give my compliments to the
vendor's engineers. They are excellent. The vendor's people are knowledgeable, and they have
a strong culture of customer service and success. The vendor's people are a great group to work
with. We appreciate that we have a core team that knows us and has our history and
background. The vendor's people hold us accountable to timelines, and we have respect for
their roles and the things that we are trying to accomplish together. That has been a great
experience." – VP, August 2022

"We work with a strong executive at Raintree Systems, and the buck really stops with that
person. The vendor's team members are great, though, so we don't even have to go to our
executive with problems. Things just happen and always seem to fall into place. The vendor's
team members and our executive sponsor all respond to us on the same day that we contact
them, and they usually respond within hours." – VP/other executive, August 2022
"Our practice manager from Raintree Systems is one of the best practice managers that I have
ever worked with. We have had times where we have put in a ticket, and our practice manager
has contacted us with a custom build or a way to solve the problem. That person has made
tweaks and small changes at no charge, and we appreciate that. Our practice manager focuses
on solving problems and making things easier for us. On the other side, there have been times
when we have needed a bigger build or a custom project, and our practice manager has talked
to us about priorities. They discuss things with us clearly, and we always end up on the same
page with the same understanding." – VP/other executive, August 2022

"During the COVID-19 pandemic, the vendor made a change to how we could track patients and
how patients would show up in the system. We really appreciated that, and we still use it. It
allowed us to provide better-quality care. That change wasn't on the vendor's road map, but
their customers needed it, and we still value it today." – VP/other executive, August 2022
"When the COVID-19 pandemic hit, Raintree Systems was very quick to start making changes
and supporting us in different ways. They immediately started to think about changes for our
patient flow. We were very overwhelmed, and the vendor immediately came to us with ideas
and started to present solutions. That was fast, and it really showed how well the vendor
understood us. With their help, we were able to provide better care for our patients during the
COVID-19 pandemic." – VP, August 2022

"We have several outside integrations with other applications, and we appreciate how easy the
system is to use. We also work with TherapyRehab Plus' credit card systems. Most people pay
with credit cards, so we are always working on finding ways to make paying easier for our
customers. The vendor has been helpful with that." – VP/other executive, August 2022
Conclusion
One of the things that really stands out for us from the customer feedback is that we are a
great company to work with. More importantly, we have a highly configurable system and a
comprehensive suite of features and services tailored to our customers' needs. With Raintree,
therapy and rehab providers can quickly and easily manage their patients' care, giving them the
confidence and peace of mind they need to provide the best care possible. The combination of
the best product in the market with the best service has garnered us this accolade from KLAS.
To request a demo, click here.