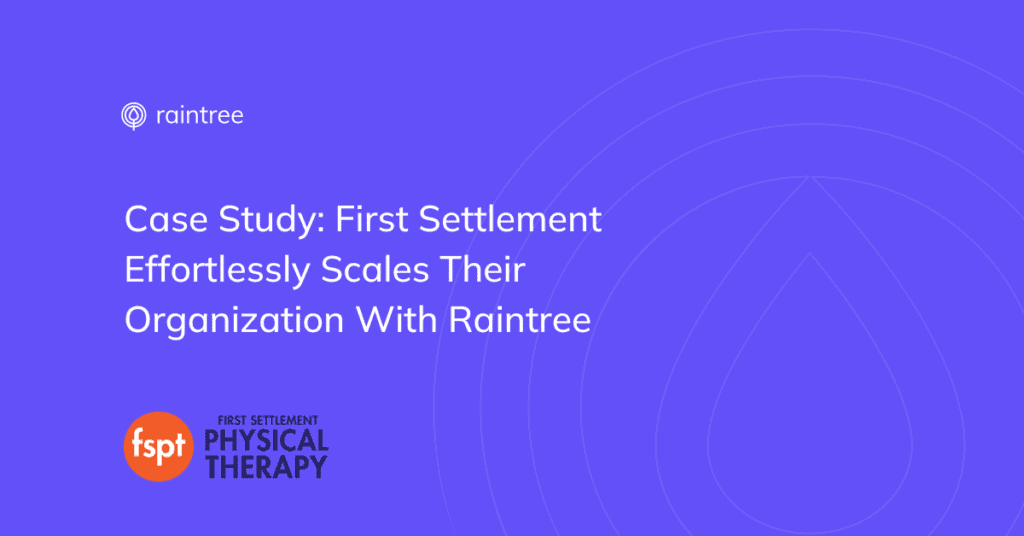 Introduction to First Settlement Physical Therapy
Established in 1999, family-owned and operated First Settlement Physical Therapy (FSPT) originally started as a single clinic in Marietta, Ohio. Now spanning 37 clinics with roughly 200 employees, FSPT quickly spread across the Mid-Ohio Valley to deliver a wide array of therapy and rehab services to patients in both suburban and rural communities.
In fact, in some counties, FSPT is the only therapy and rehab clinic available, making their success vital to patients that live in otherwise medically underserved areas.
From aquatic therapy to sports medicine, First Settlement offers so much more than just physical therapy. Their list of services includes, but is not limited to:
Brace Fitting & Splinting
Fall Prevention
General Orthopedics
Hand Therapy
Occupational Health
Speech Therapy
…and more!
Beyond the wealth of services they deliver to their patients, First Settlement also offers student opportunities across several of their locations, including business management specialty assignments, outpatient ortho, and aquatic therapy. Students can look forward to a hands-on experience while also receiving valuable feedback to help further their education and careers.
We had the pleasure of speaking recently with Simon Hargus, owner, to learn how First Settlement has faced and surpassed challenges in the PT market.
The Challenge Facing First Settlement Physical Therapy
As an organization that delivers exceptional care to both suburban and rural communities, First Settlement Physical Therapy needed a digital solution that not only maintains their quality of care, but facilitates growth and further opportunities for success. With the exponential organic growth they've had over the years, the growing pains became apparent.
Addressing challenges in billing and RCM was one of the first priorities. "We need to grow from a mom and pop, and we need software that can handle authorization processes," Simon told us. "We started losing money by not being able to manage those medical billing needs on our own. It became too costly to manage these pain points manually."
Next, First Settlement looked at their marketing and patient engagement strategy. "Our marketing team needed more opportunities for outreach and engagement and needed a software that provided that funnel. While there are external softwares that can do this, we wanted something all-in-one. We do just about everything in-house and we enjoy that aspect of our business."
That's where Raintree came in.
The Raintree Solution
With the help of Raintree's all-in-one electronic medical record (EMR) system, First Settlement has been able to effortlessly scale their organization with a robust set of business intelligence tools that can easily accommodate the distance between each facility with remote access capability. As an added benefit, Raintree is also able to separate student metrics from employee metrics, giving First Settlement the ability to easily balance student opportunities alongside delivering quality care.
"We like the culture and the willingness to always work with us for needs that come up," Simon said. "I think Raintree mirrors the excitement we have for therapy services, while understanding the nature of healthcare right now has to be a continuous improvement from any perspective"
What's more, First Settlement also takes advantage of Raintree's automated patient engagement tools to further market their clinics to medically underserved areas as well as keep up with internal and external campaigning efforts – an essential part of serving a small community. With lead tracking tools and the ability to monitor patient trends, Raintree makes it easier than ever for First Settlement to attract and retain new patients on their journey to growing their organization.
The Results Seen by First Settlement
When serving rural and suburban communities, practice growth isn't as simple as opening another location. Where there is a national shortage of medical professionals, rural areas are hit tenfold with staffing issues and declining reimbursements for Medicare beneficiaries. Again, Raintree presented a solution.
"The easiest way to combat declining reimbursement rates is growth," said Simon. "We want to continue to grow and provide continuity throughout these declines with more efficient workflows."
With Raintree, First Settlement was able to nurture organic growth by having their existing processes streamlined and optimized. By automating complex workflows across medical billing, marketing efforts, and regulatory reporting, like MIPS, it became possible to refocus time and resources on creating an organization that could offer patients quality care AND efficient processes for staff.
The results practically speak for themselves. In Simon's words: "Our MIPS score is pretty much perfect without much effort. The customization and quality of information I can get out of Raintree was a wow factor."
Another way that Raintree has helped First Settlement to attract and recruit therapists in a rural setting is by delivering fast onboarding and offering an annual user conference that allows interested providers to achieve a higher level of understanding. By being transparent about the digital solution in place, First Settlement can use Raintree's platform as a selling point that guarantees a work-life balance through intuitive workflows and data points that showcase time spent on documentation, the number of patients seen in a day, and other factors that therapists consider when looking for a practice.
When anticipating the switch, Simon told us, "it was surprising how easy transitioning to Raintree was, especially for our providers. There is a learning curve, but it didn't take weeks, it took hours."
Raintree's software also provides First Settlement with the tools needed to boost revenue. Front desk automation, such as scheduling technology, has given office staff the opportunity to cover more responsibilities and save resources while also increasing overhead. On the billing side of things, Raintree's automated claim appeal system that ties certain codes to troublesome claims has translated directly into money and time saved.
"This sounds small, but it was a big deal for us: Raintree is extremely scalable, which was great for our business because we intend to grow."
Final Thoughts
What would be your advice to someone who doesn't know about Raintree?
"I heavily recommend Raintree. The best advice I can give is to ask every question and then ask more – don't let anyone off the hook – get all of your answers. I think it becomes obvious that Raintree is the better choice the more questions you ask."
Interested in how Raintree's scalable EMR can help your physical therapy practice grow? Request a demo with one of our experts today!