With our consistent, tedious push towards the new normal, it isn't a surprise that physical therapists and other healthcare professionals are reporting increased feelings of stress. Not only are practices experiencing an influx of appointments (both in person and via telehealth), but offices are having to adjust to evolving patient standards of care such as the convenience of E-Statements or the flexibility of self check-in kiosks. That's why we want to discuss the causes of burnout for physical therapists and explore some ways practice owners can not only support their staff but also better empower their entire organization!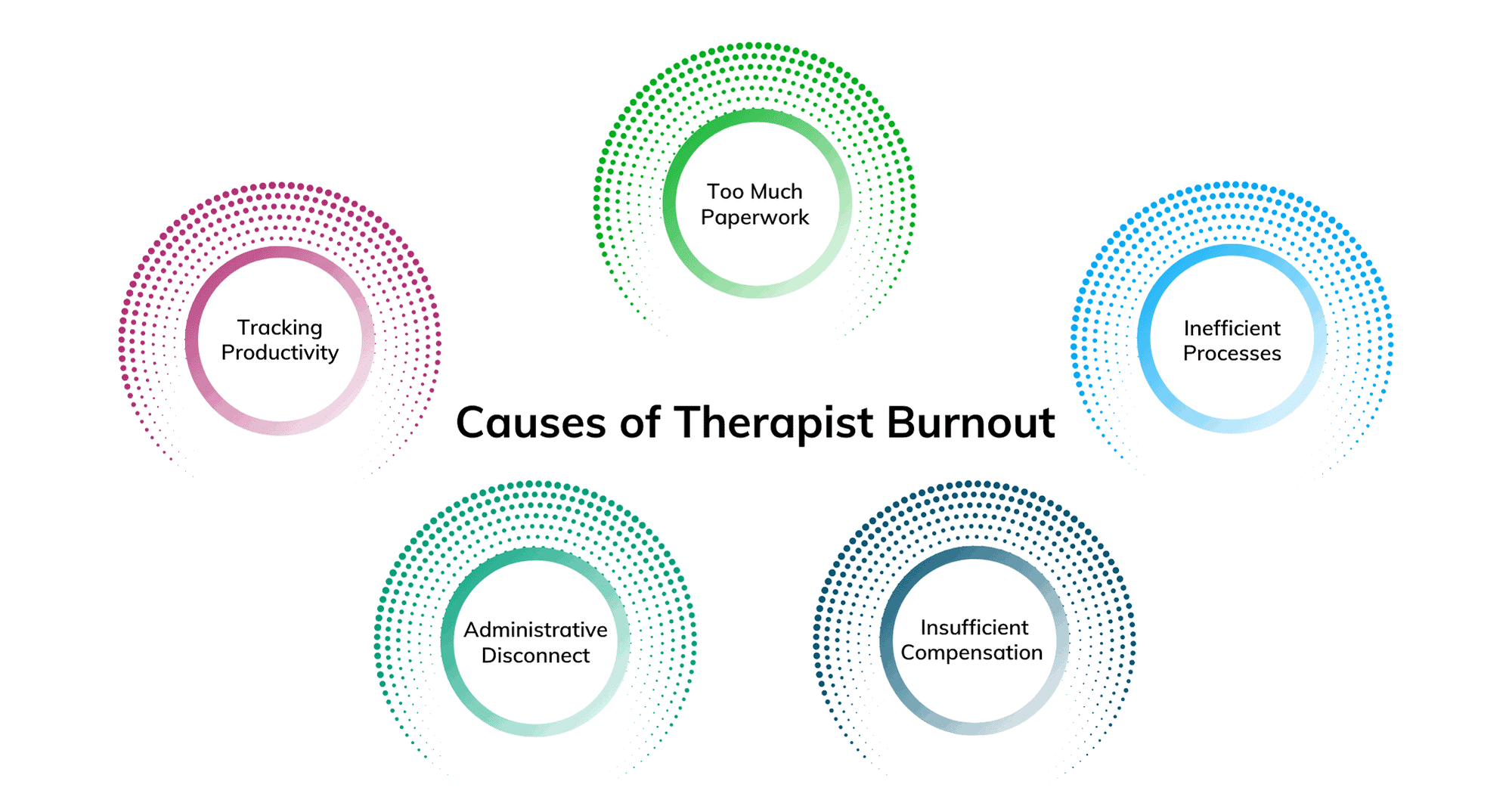 Too Much Paperwork
Let's start with the obvious – more appointments means more manual labor! The hassle of staying organized is made even harder when you have to keep track of messy stacks of paper that pile up and get in the way. This also leads to duplicate content, no standardization and even forgotten information. By leveraging electronic medical/health records (EMR/EHR), you can utilize technology-enabled solutions that help your therapists efficiently manage patient documents as well as streamline clinical workflows. Click here to learn more about the benefits of data-driven automation!
Inefficient Processes
If a practice operates inefficiently, that impact is felt by everyone – especially healthcare providers and the patients within their care. From documentation to engagement to billing, every inconsistency is time and money wasted. For providers, this means burnout can result from the over-exertion it takes to correct poor workflows that may be setting them up for failure. Whether you forcibly model your business after a competitor or have simply outgrown your current system, it's important to analyze and address your unique needs. Business intelligence and analytics can offer valuable insights into your operations and encourage more strategic decision making.
Insufficient Compensation
As a leading healthcare solutions provider, we understand that managing any type of business can be difficult; however, practices that use outdated systems with inadequate billing and manual workflows often lead to monies misspent, wasted or worst – lost. If you can find a configurable system that maximizes your revenue, you will be able to amend employee wages and capitalize on your profits! Take a look at some of these revenue cycle management strategies that may help.
Administrative Disconnect
Any disconnection in leadership leads to miscommunication, distrust and inevitably, low morale or burnout. For many practices, the source of this divide is usually due to internal barriers between providers and office administration staff. Here are a few ways you can maintain consistent outreach across all departments.
An important tool to have in your engagement toolbox is a powerful patient dashboard that can allow you as well as your staff to see all the information you need regarding appointment scheduling, plans of care, visit metrics and clinical survey feedback.

Be sure to implement an EMR/EHR software that features specialty specific documentation, interoperable billing and an engagement platform that will help seamlessly connect your staff with patients, referral sources or payors.

Optimize your reports through in depth analysis views and customizable dashboards that host a variety of interactive reporting filters, drop down menus and more.

Engage your patients throughout their entire journey and enable providers to proactively streamline communications between:

patients and providers

providers and clinical staff

payors and other third parties
Tracking Productivity
For many organizations, it is understandably important for key performance indicators (KPI) or some form of measurable goal to be set and met by billing fulfillments, campaign releases, etc. However, how these goals are executed and monitored can cause provider burnout if they don't align with the available resources or current trajectory of the company.
For example, if goals are set with unsupported data, are not able to be realistically achieved or do not serve the legitimate needs of your practice – there may be increases in staff frustration. Furthermore, if there are no goals at all or if outcomes are too slow to come to fruition, burnout can result from a combination of being overworked and feeling undervalued.
Therefore, it is important that your practice has access to data that helps you:
Make more effective decisions about what your goals are as a whole

Break down those goals into manageable courses of action

Distribute tasks for each staff member in every department
Equip Your Practice With An All-In-One Platform
With an all-in-one digital healthcare platform, you can easily enhance patient engagement and elevate practice management, no matter how large or small your business is! Adopting a collaborative care approach and incorporating software built to accommodate your unique complexities are both equally important for small clinics eager to expand as it is for large enterprise networks looking to sustain growth.
Although burnout for healthcare providers is at an all time high due to the pandemic as well as the swiftly approaching new year, it is important to remember that there is an abundance of tools and resources out there for your practice to find the perfect balance. Check out our website and explore our technology-enabled solutions that can help you do just that!