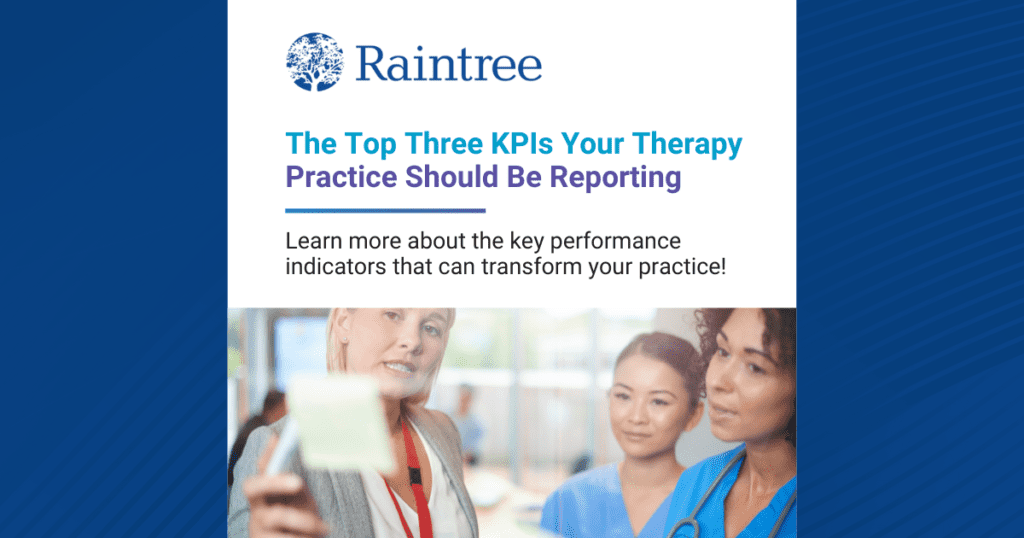 Therapy and rehab is all about quality-based care. In fact, therapists, patients, managers, employers, and payors all expect to see evidence of effective and engaging therapy. So in order to successfully track and report these key performance indicators (KPIs), you'll require the right business intelligence (BI) software that will best equip your therapy practice – that's where our industry-leading reporting tools come in!
What Are Key Performance Indicators? And Why Do They Matter?
You can measure the health of your therapy and rehab practice by using key performance indicators. KPIs are objective, quantifiable, data-driven measures of activities that show the success of your practice – from administrative operations to financial tracking.  Data analysis of KPIs over time allows you to create benchmarks for measuring performance, which helps form the foundation for your business intelligence reporting capabilities. 
What Can Business Intelligence Do For Your Therapy and Rehab Practice?
More than a collection of compiled data, business intelligence helps you plan tactical strategies using various analytic tools or technologies designed to optimize operations and automate processes. Your BI platform may include easy-to-use dashboards, customizable reports, filtered charts, interactive graphs, and other data-rich sources, all working in conjunction to provide the information that fuels your informed business decisions. With all of these insights in your back pocket, you'll be able to promote the longevity, stability, and exponential growth of your practice, but first… you'll need to decide which metrics you want to measure.
What Should Your Therapy Practice Be Reporting?
At the end of the day, therapy and rehab practices are just like any other business – with required monthly, quarterly, and yearly reporting. Plus, you're expected to have information ready to be reported to all the alphabet soup agencies that oversee, tax, and regulate healthcare practices.
So to help your therapy practice get on track, here are the top three metrics you need to measure, monitor, and make a priority if you want your business intelligence and analytics to actually work.
Revenue cycle and billing
Patient data and marketing
Operational KPIs and staff productivity
Revenue Cycle And Billing
This includes income from customers who purchase goods and services, and in your case, your customers are patients purchasing a healthcare service. With a bit of data visualization applied to your revenue and billing numbers, you can easily spot growth, stagnation, or decay. Specific points to track include:
Overall clinic revenue and gross margin
Overhead costs and ROI per month
Cost per visit or percentage of cancellations
Delay in payments or reimbursements
Patient Data And Marketing
By tracking patient data, therapy and rehab practices can determine areas of opportunity for patient follow-up, outreach, and improved provider-patient relationships. These particular KPIs should also inspire confidence and include concise insights regarding:
Digital intake and referral tracking
New patient visits, appointment summaries including cancels and no-shows
Utilization (the number of visits divided by the total capacity of providers)
Patient outcomes and survey results (i.e. NPS or Therapy Value)
Operational KPIs and Staff Productivity
Not all KPIs are hard and fast numbers! Alongside tracking clinical performance, it's important to measure the morale of your staff too – including properly accommodating therapist burnout! While it may be objectively difficult, managing the satisfaction of your employees is essential to driving efficient and effective business decisions regarding staff workloads, clinic capacity, as well as addressing the potential need for additional training. Some other metrics to consider are:
Visit count and patient satisfaction
Attitude and mindset of staff: Are they happy? Engaged with co-workers?
Clinical documentation and billing efficiencies (i.e. claim denial management, total DSOs, collective AR, etc.)
Is Your Therapy and Rehab Practice Limited By Basic Reporting Tools?
From revenue projections and financial planning to conversion tracking and lead-to-patient reports— you need it all in one EMR in order to gain complete visibility of your therapy practice.
With Raintree, you have the most flexible and powerful BI platform at your fingertips, which means adjustable data points, customizable user access, interactive reporting features, plus…
Drop-down menus
Drill down and calculated field filters
Compliance alerts and notifications
Configurable dashboards with cross tab views
Data separated by financial class, case type, or key payors
Doesn't your therapy and rehab practice deserve a chance to make delivering therapy easy, efficient, and more engaging? If you're ready to learn more about our secure, simple BI and reporting tools, let's get started! Schedule a free discovery call with us today.