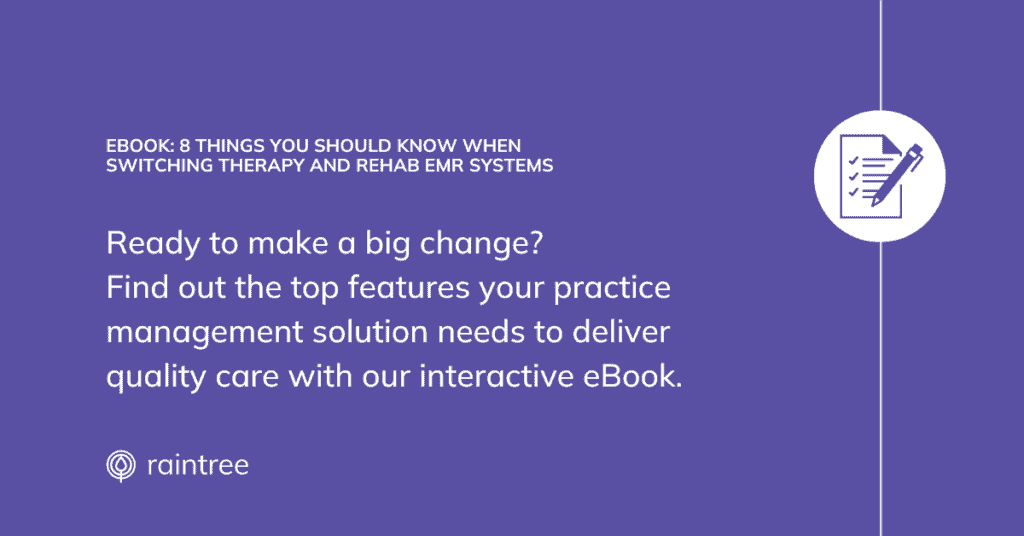 Therapy and rehab practices need cutting-edge digital solutions that match their unique electronic medical record (EMR) and billing needs, from high customizability, business intelligence, scalability, powerful RCM, and more.
This begs the question: Is it time to switch EMR systems?
Here is a short checklist of top features to help you decide.
Want to jump ahead? Check out our interactive eBook right away!
An Improved Interface by Switching EMR Systems
Most EMR issues begin with a poor user interface (UI) design, leading to difficulty using the software and increased errors. In fact, 74% of providers feel that an improved UI would resolve several of their immediate troublesome issues.
Through trial and error, these providers know that an excellent user interface can help boost engagement, reduce no-shows and improve patient care. For example, with an intuitive patient portal, you can send reminders about upcoming appointments and conduct patient follow-ups after their visits.
These functions elevate engagement and help decrease no-shows because of improved communication. Moreover, you can reduce costly no-show numbers with a portal that provides self-scheduling and timely appointment cancellation.
Beyond the benefits an intuitive interface can bring to your patient management, a good UI can also help your staff work more efficiently. You want straightforward data entry and thoughtful tools such as built-in Current Procedural Terminology (CPT) codes to save time, minimize errors, and increase the success of your claims.
Interoperable Features that Facilitate System-wide Information Sharing
When you upgrade your digital solutions by switching EMR systems, the data collection and sharing features should see apparent improvements. Your ideal EHR should enable information sharing and seamless interoperability with any other platforms that help meet your practice's specific needs.
Remember, you also want a smooth migration from your existing EMR system to the new solution. A truly interoperable platform will allow you to import information from your current platform and other databases efficiently while also giving you the freedom to look at other software solutions.
Reduced Documentation Time After Switching EMR Systems
One of the biggest challenges in therapy and rehab is inefficient documentation processes. Statistics show that 62% of the time spent on a patient goes toward reviewing clinical data. This is a huge pain point and often one of the most significant factors causing skilled employees to leave their organizations.
When investigating a system for documentation efficiencies, you want to look for specialty-specific templates, notes, charts, and claim appeals forms, to mention a few. You can also benefit from advanced documentation management features, such as:
Voice-to-text output: This helps your therapists focus on the patient instead of getting distracted by taking notes during their sessions.
Auto-correct: This feature helps you avoid human error. For example, your system can automatically scan any documents for CPT codes and correct any errors for submission, saving time and boosting approvals.
Internal report cards: These can help track improvement opportunities and provide notifications to help therapists and patients meet their goals.
Switching EMR Systems May Reduce Staff Burnout
The primary reason to automate any process is to let the system take over the heavy lifting, leaving you more time to redirect to higher-value tasks. It goes without saying that your new system should lessen your staff's burden, allowing them to perform tasks more efficiently. Ultimately, this can lead to higher job satisfaction and lower attrition.
When selecting a potential EMR solution, you want one that will reduce the time therapists spend on routine processes, such as charting, writing reports, billing, and other tasks. The more workflows you automate, the more you can increase productivity and reduce daily frustrations that lead to staff burnout!
Business Intelligence and Analytics
Your practice is sure to generate lots of patient data, which you can leverage to drive growth and quality of care. With quality business intelligence (BI), you can collect data, organize it, analyze it, and automatically produce reports, such as:
Visit metrics, including no-shows and cancellations
Interactive return on investment (ROI) calculations
Financial planning
Successful practices use powerful EMRs that can drive operational insights. Settling for anything less is a risky compromise in today's competitive business landscape.
What Else Should You Know When Switching EMR Systems?
Upgrading your EMR can bring significant advantages to your practice. Not only can you gain an improved UI, along with interoperability and business intelligence features, but you can also benefit from:
Scalability: Streamlining your practice, boosting efficiency, and improving patient outcomes can fuel growth. You want a digital solution that can scale to support you as you evolve. For example, it should accommodate new practices and different age groups.
Compliance: Stay out of the crosshairs of regulators with software that has earned certification from the Office of the National Coordinator for Health Information Technology (ONC) and aligns with the Health Insurance Portability and Accountability Act (HIPAA).
Are you ready to dig deeper? Check out our interactive eBook, where we guide you through the most critical software features you need to consider when shopping for therapy and rehab EMR to make an informed decision.