Integrated therapy in schools has become a common approach to offering therapeutic services such as occupational therapy (OT), physical therapy (PT), speech-language pathology (SLP) and applied behavioral analysis (ABA) to students in an educational environment. Similar to push-in therapy, where services are rendered in the classroom, integrated therapy allows therapists to work with students in a traditional learning setting, helping reduce transitional anxiety and increase social opportunities for practicing with peers.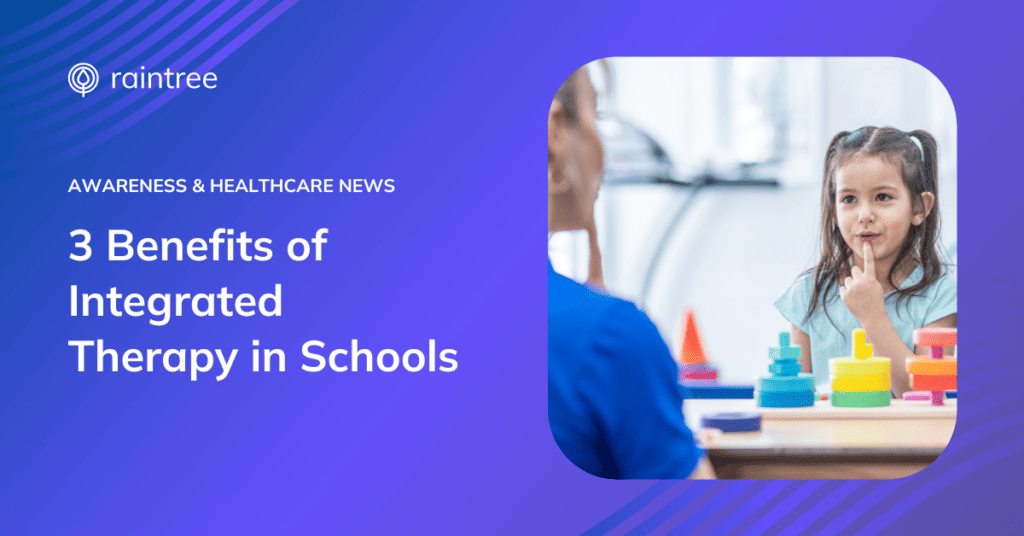 The structure of integrated therapy emphasizes teachers working alongside therapists to form collaborative instructional teams that can monitor and evaluate student progress. In fact, therapists often design and share their own lesson plans, so that educators can consistently reinforce tasks learned in therapy as well as promote growth for students in more ways than one.
Sharing roles in this manner results in improved efficiency, comprehensive delivery of therapy services, more opportunities for data collection and other benefits to pupils with various learning differences. For parents and guardians, school-based integrated therapy empowers students to proactively receive the support they need without the time-consuming hassle of traveling to appointments with multiple therapy providers.
Integrated Therapy

in Schools: 3 Benefits

Schools that embrace integrated therapy often experience better academic and social outcomes due to students focusing on useful skills in unrestricted environments. In the setting that integrated therapy provides, problems are addressed as they arise and assessments are performed across various routines, allowing therapists as well as teachers to impart immediate feedback in more comfortable, organic situations for students.
A massive benefit of integrated therapy is that students don't have to miss out on classroom activities in order to attend external lessons, allowing for academic gains at the pace of their peers and uninterrupted social interactions.
Beyond benefiting the students, teachers taking part in integrated therapy programs have opportunities to expand their skill set by observing and working together with therapists to guide children, track outcomes, determine the feasibility of strategies in addition to adjusting treatment plans as needed.
Outside of the classroom, integrated therapy helps establish a community between the parent or guardian, staff and school-based therapists, characterized by effective communication alongside collaborative care. This improved relationship also contributes to fostering the child's continued growth and development. As an added bonus, receiving therapies in school can reduce the number of trips and time spent by parents or therapists as they strive to meet a child's needs, decreasing stress across the entire support system.
The Multi-Faceted Components Of Integrated Therapy
Experts in early childhood special education intervention and social-cognitive development theory point out that the traditional therapy delivery model involves students meeting with one or more professionals once per week for an hour. While those brief lessons can be packed with valuable information and techniques, children with special needs often have a hard time with scenario awareness and application of skills – hence the need for integrating therapy into the classroom. 
However, not all forms of therapy are appropriate for classroom integration. Treatments that require specialized equipment or extensive physical therapy may occur separately, whereas speech-language pathology and occupational therapy that are more realistically achievable within the classroom are encouraged to be incorporated into everyday educational settings.
In addition to serving students with physical challenges or learning disabilities, integrated therapy can support young people with mental health diagnoses at school, including depression, anxiety or even post traumatic stress disorder (PTSD). Every Moment Counts, a mental health promotion initiative, recommends the following strategies for effectively integrating therapy into the classroom:
Leveraging multi-disciplinary expertise: to benefit from the knowledge of professionals — including occupational therapists, nurses, music therapists and recreation therapists — who have the training and/or skill in addressing student mental and physical health needs
Modifying the environment or task: to adequately and appropriately embed related integrated therapy into school
Co-teaching: through station teaching, parallel teaching, team teaching and alternative teaching
Coaching strategies: when the related therapy provider does not work exclusively as a consultant outside the classroom but rather engages in shared work with the teacher to help model strategies and guide implementation
Small group interventions: where the student-to-teacher ratio is small and many lessons are part of daily behavioral patterns, such as fine motor skills, feeding therapy, active listening, expressing feelings, being a good friend, teamwork and working on sensory processes
Another benefit of integrated therapy is that it can inclusively reach all students in a classroom instead of targeting only those who need services. Thus, integrated therapy can contribute to a more positive and healthy school community that meets the needs of all learners.
How An All-In-One EMR Can Help
Since every student or patient's needs, strategies and goals are distinct, the administrative side of delivering therapy can be complicated, not to mention the added strain of coordinating with multiple parties.
That's why Raintree is proud to provide the most flexible, powerful practice management platform that can help streamline your therapy and rehab practice with specialty-specific clinical documentation and interoperable billing. With a Software-as-a-Relationship approach, our technology-enabled solutions help boost engagement and foster real relationships, no matter what type of therapy you deliver.