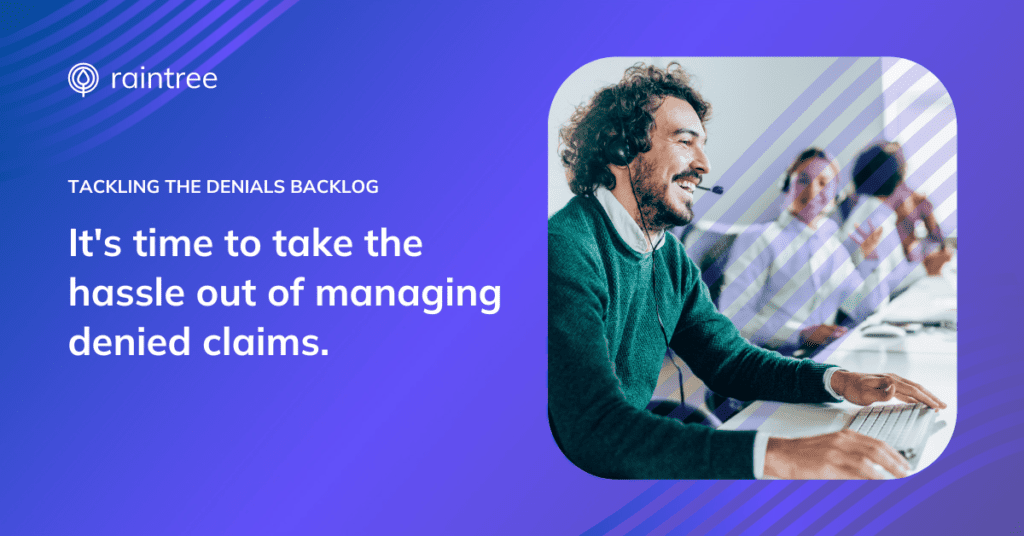 Tackling the Denials Backlog
Did you know that 65% of claim denials are not reworked? These denied claims have led to significant revenue loss in healthcare, with individual providers potentially losing millions per year in denials alone! While it's not always possible or efficient to appeal 100% of denials, the right claims denial management solution can help you determine which denials are worth prioritizing for resubmission, helping your therapy and rehab practice recoup as much lost revenue as possible.
To help determine which virtual tools will benefit your organization the best, it's important to determine the most common reasons for denials. We've broken these down into three main categories:
Registry and eligibility
Late claim submissions
Medical coding errors
Let's take a closer look at how a highly configurable electronic medical record (EMR) system can identify denial patterns, minimize claim denial rates, and improve your practice's cash flow!
Claim Denial Prevention
The first and most important step to take in identifying areas of improvement in your revenue cycle management (RCM) is ensuring that your practice management software includes automated billing tools that target claim denial prevention. From auditing patient eligibility before an appointment is scheduled to claim monitoring technology that delivers real-time updates, having an integrated RCM solution is key to preventing denials from happening in the first place!
Beyond catching issues during patient registration, it's equally important to seek out technology that provides built-in claims denial management tools that can catch National Correct Coding Edits (NCCI) and incorrect modifiers. More simply put, this software is capable of scanning clinical documentation and assigning the appropriate Current Procedural Technology (CPT) codes to match the services rendered.
By taking advantage of an all-in-one platform with automated financial workflows, your software can be configured to suit the unique billing needs of your therapy and rehab practice. After all, your best line of defense against denials is to not have any at all!
But what about the denials that aren't caused by registration issues or incorrect medical codes?
Addressing Technical Denials
The root cause of a technical denial is a technological issue, such as poor communication between software, as opposed to actual medical or insurance reasons.
While these issues can be nearly impossible to predict, your practice can still establish streamlined workflows to ensure that these types of denials are addressed quickly and safeguarded against for the future. Here are some steps to guide you in optimizing this process:
Analyze the denial backlog, group them by the payer, and try identifying the common reasons so that you can resolve recurring issues simultaneously
Draft letters to appeal to the payer once you know what went wrong
Be sure to attach the appropriate documents
This process is a perfect example of how automation can step in and take the reigns. By utilizing an RCM system that offers built-in appeal forms that can be pre-populated according to the specific payer, you can further streamline reimbursements as well as save time and labor.
Taking on Clinical Claims Denial Management
This category of medical-related denials includes issues such as incorrect plan code entry, services not covered, and exceeding maximum benefits. You would typically require more resources to appeal these types of denials, such as the expertise of a nurse auditor. Depending on how often your practice deals with clinical denials, this can quickly become a tedious, resource-draining process that gets put on the back burner or goes entirely unaddressed in favor of claims that are easier to appeal.
Consider working with a medical billing outsourcing partner if you need more skill or manpower to deal with clinical denials. The right outsourcing partner will provide a robust appeals letter-writing team and experienced auditors that can free up your own medical billing staff as well as help you recoup reimbursements that would have otherwise been severely delayed or lost entirely! From high denial rates and recurring errors to delayed payments and billing staff attrition, the sign that it's time to look for a third-party solution might be right under your nose.
What Other Denials Should Be Prioritized for Appeal?
When it comes to tackling the 65% of denied claims that are left untouched, identifying which claims are the easiest to appeal is a vital part of your denial management strategy. For example, denials due to "no concurrent authorization" are often a result of a lack of concurrency between the prior provisional affirmation from the payer and the final claim submitted. Here are a few more examples of what can be appealed quickly and easily with the right claims denial management solution in place:
Not a covered service: With the help of a coding specialist, this denial can be straightforward to appeal if the service is deemed a medical necessity.
Bundled payment: When appealing these claims, you also want to contact the charge master to ensure that services that don't need an appeal within that bundle are not affected by the process.
Pending receipt of medical records: By leveraging RCM and billing tools that maintain a detailed claim status history, denials of this nature can be easily appealed as soon as the medical records become available.
While many denials are preventable with the right tools in place, your therapy and rehab practice can also address an overwhelming backlog of denied claims and recoup lost revenue more efficiently with a robust RCM and billing tool alongside a team of professionals.
Raintree's Integrated Claims Denial Management Solution
Here at Raintree, we offer an all-in-one practice management platform with a built-in billing system for all your RCM needs. From outsourced medical billing professionals to automated tools that minimize the risk of denied claims, our integrated revenue cycle management solution can save you time, money, and resources that can be put toward delivering quality care!
Ready to learn more?
You can rely on our solution to help you streamline your denials management, take action on denied claims, and elevate your revenues. Request a demo today!