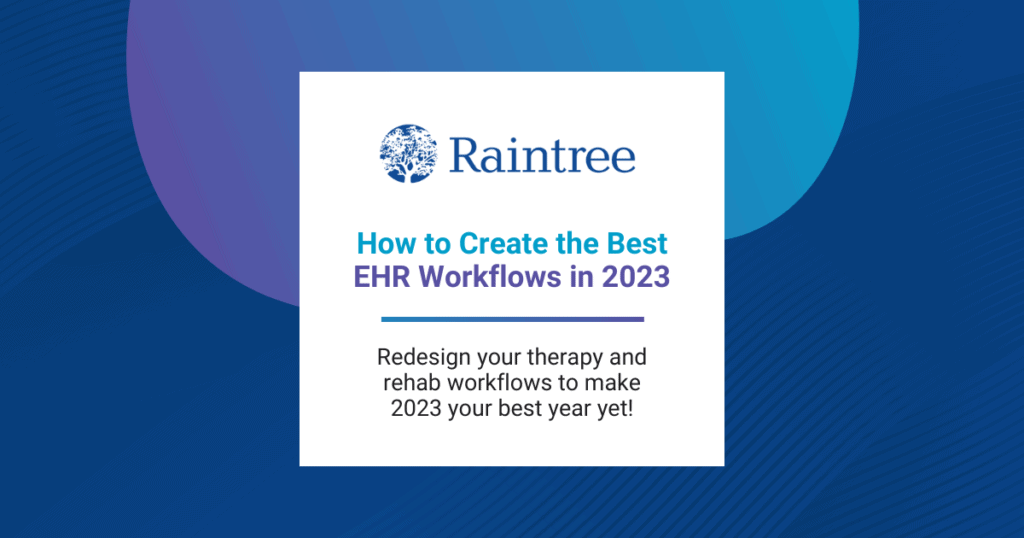 Your electronic health record (EHR) system is a valuable tool in your practice, but too many practices aren't using their software to their maximum potential. To take full advantage of your EHR's benefits, you should take special care to evaluate, analyze, and redesign your practice's processes anytime there is a significant change, such as implementing new solutions, upgrading existing features, or customizing tools even further. The right digital solution will supply your practice with the tools you need to ensure that you create the best workflows going into the new year!
The movement of patients and patient data through your office and practice management system can improve dramatically when you take steps to utilize every feature your electronic medical record (EMR) offers to the fullest extent. Let's tap into the benefits your software solution can offer after a workflow redesign.
Redesign Workflows When Customizing Your EHR
With a redesign of your workflows, your EHR system should improve across all processes. A properly managed redesign can help maximize workflow efficiency, improve healthcare quality, enhance safety, promote productivity, and optimize care coordination.
To get started, first take a comprehensive look at your current workflows.
Identify the inefficiencies and areas where bottlenecks develop.
Collect staff and EHR vendor input on potential solutions to specific trouble spots.
Monitor your new workflows closely after implementing them and make necessary adjustments.
Organize staff training and education to ensure old workflows aren't interfering with the efficiency of your redesign.
Front Office Workflows and the Patient Experience
The key to successful patient workflows is communication between the front office, patients, and clinicians. Changes made when redesigning front office workflows should be fine-tuned and rock solid to avoid disruptive situations. For example, you can optimize your front office workflow to decrease or eliminate wait times through telehealth appointments. These offer a virtual waiting room that encourages patients to complete registration forms and other intake paperwork digitally.
To take it a step further, you can implement more robust patient engagement strategies that benefit your practice two-fold! By involving patients in their healthcare experience, from check-in to discharge, you can encourage patient communication, increase patient engagement, and reduce your front office workload. In fact, your EHR can play a significant role by offering a digital patient portal in your mapped-out workflow in order to streamline the movement of patients through your practice. This gives patients secure access to their health information, including lab results, prescriptions, visit reports, and discharge instructions. In addition, your follow-up can include patient outreach through automated reminders and messaging – all while letting front office staff focus on other aspects of running a smooth practice!
Billing Processes and Workflows Overview
When the time comes to create the best workflows, scrutinizing your revenue cycle management (RCM) and billing practices can be more intimidating than other processes. Concerned about the transition casting a negative cloud over your revenue streams? You don't have to be! Get ahead of the curve by considering RCM automation and outsourcing your medical billing to a trusted vendor.
Automated Billing
Streamlining and automating your RCM isn't tricky if you have the right digital solutions on your side – because effective billing comes down to your claims being paid instead of denied. Your automated billing tools should have the capability of generating an explanation of benefits (EOB) to help pinpoint any problems in the case of a claim denial.
Additionally, look for digital solutions that are accurate and meet billing deadlines, such as Raintree's all-in-one EMR system. To optimize your financial operations and reduce the possibility of human error, consider these strategies:
Determine your risk for denials with an internal audit of your practice.
Train your staff to catch errors in claims before they're submitted.
Set up integrated automated RCM solutions to replace manual processes.
Don't Overlook Outsourcing to Create the Best Workflows
Outsourcing your RCM and billing is an exciting step that requires a lot of planning. You'll have to decide whether your concerns outweigh the undeniable cash flow benefits. These include access to experts who can help meet your billing needs faster, the opportunity for more accurate claim processing, as well as free time to focus on delivering quality patient care.
Is your practice experiencing a high turnover rate among billing personnel?
Are payments being delayed and outstanding balances landing in collections?
Having trouble determining what's causing denied claims?
These are all signs that your workflow redesign should consider outsourcing your billing.
Enhance Care Coordination with Improved Provider Workflows
Improving care coordination decreases the fragmentation of care between providers, but implementing a workflow that targets optimizing staff and provider interactions requires a lot of data to analyze. An EHR system that includes robust business intelligence features can include built-in key performance indicators (KPIs) that allow for close monitoring and productivity management. Couple that with improved clinical workflows and your practice can reap the benefits of each provider having access to the same accurate, up-to-date patient information, as well as seamless communication between stakeholders, and enhanced patient experiences.
Workflow Redesign Can Boost Clinical Documentation Efficiency
The goal of clinical workflows is to eliminate waste, improve productivity, and optimize communication. Toward that end, your redesign efforts should evaluate your workflows by outlining them and your office processes, then look for the following features:
Automation and task triggers
Customizable templates which facilitate provider documentation
A built-in library of specialty-specific tools to assist in diagnosis and progress-tracking
Ability to scan paperwork directly into the system
If any of your existing workflows can take advantage of these features, they're worth adopting! Once automation and custom templates are fully integrated into your processes, the effort taken to maximize efficiencies can directly correlate to the amount of overhead your practice can handle and improve patient outcomes.
Redesign Your Workflows the Raintree Way!
If your practice is ready to up its workflow game, Raintree's all-in-one EMR is just the tool you're looking for! With our automation technology across patient engagement, RCM and billing, business intelligence, and clinical documentation, we offer therapy and rehab practices the most complete set of practice management tools available.
What's more, we understand the growing pains that come with EHR implementation and we're here to make it easy! Our implementation specialists and support team work directly with your organization to ensure that your practice is operating at its fullest potential and that your staff feels confident utilizing new and improved processes. Contact us today for more information and usher in the new year with new workflows!