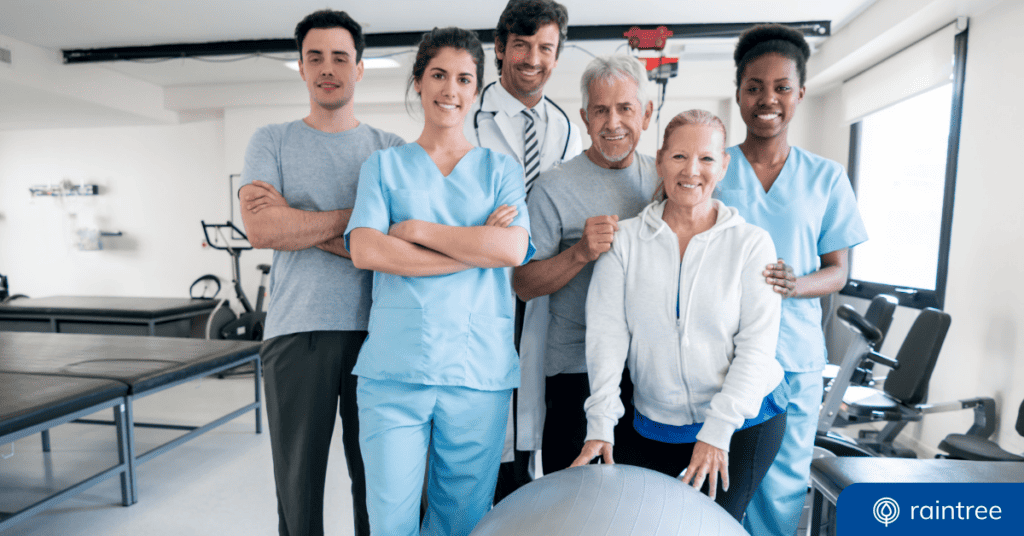 CEOs and practice owners in rehabilitation therapy are tasked with charting the path toward success, but there are many roads to choose from.
If you're taking the mergers and acquisitions (M&A) route, a crucial step involves calculating your market value from the perspective of outside investors. Typically, you'll use measures of value like your practice's adjusted EBITDA, which illustrates your "Earnings Before Interest, Taxes, Depreciation, and Amortization."
But your real value doesn't end there. Investors frequently look to other driving factors of value, like practice size, strength of leadership, growth trajectory, and risk factors. And it's never too early to improve those areas of your practice.
That leads us to the most important question you'll hear today: Owners and CEOs, are you leading your organization toward operational excellence?
If you're not confident in your answer, don't go anywhere. It's time to learn how lean, scalable processes can boost your practice's value and create sustainable profit.
What Is Operational Excellence?
Operational excellence (OE) is the philosophy and process of aligning every aspect of an organization toward uninterrupted delivery of value to the customer.
Specifically, by empowering staff at all levels of the organization to identify and implement systemic changes, OE fosters a culture of continual improvement from the bottom up.
Where Did the Concept Originate?
Fun fact: Although it has cross-industry relevance today, operational excellence has its roots in the manufacturing sector—leading back to automotive giant, Toyota.
In the late 1940s, the Toyota Production System (TPS) introduced a model for lean manufacturing, which focused on improving quality and efficiency while reducing waste.
How Can Manufacturing Philosophy Apply to Healthcare?
While Toyota used its lean approach to build better cars for lower prices, healthcare leaders have adopted the lean philosophy to improve processes that lead to positive treatment outcomes and patient satisfaction. Additionally, the philosophy of operational excellence can help healthcare leaders eliminate steps that do not deliver value to patients.
And the benefits go beyond creating a single, more efficient practice. As the medical field shifts toward value-based care, hospital systems and independent practices can benefit from embracing innovative operational models.
Who Is Responsible for Maintaining Operational Excellence?
Implementing OE often requires a mindset shift at all levels of the organization. Take this perspective from a 2021 KMPG roundtable report, which compiled the input and success stories of senior health system leaders from fourteen hospitals across North America and Europe:
When every member of an organization looks at everyday processes with an eye for improvement, the whole operational system can reach previously unattainable levels of efficiency.
Benefits of Operational Excellence in Healthcare
By emphasizing continuous improvement and reduced waste, your rehab practice can achieve business efficiencies that will impress investors. For example, applying operational excellence to practice management can look like:
Standardizing care delivery processes for a more satisfying patient experience and better treatment outcomes.
Minimizing waste generated by inefficient workflows, techniques, and technology.
Shortening response times to internal and external feedback.
Using data to highlight opportunities to optimize resources—such as personnel and equipment—and reduce overhead.
Operational Excellence as a Value Proposition
By this point, you might have an idea of how operational excellence can transform your practice. But how do you know if it's the right time to take a new direction?
Understanding the Rehabilitation and Physical Therapy Market
Let's consider the overall physical therapy market size and overall growth trajectory. In 2022, the US physical and occupational therapy market reached an estimated $50.26 billion and was on track to surpass $72 billion in 2029.
Additionally, global investment bank, Harris Williams, points out that physical therapy M&A remains strong due to a fragmented market and a strong service demand. In the first half of 2023, private equity healthcare deals slowed in comparison to 2022, but remained active overall.
While it's important to pay attention to overall market strength, several other factors spark the interest of investors. In explaining their decision to invest in a physical therapy practice, investment firm New Harbor Capital said:
Is Operational Excellence Possible for Your Practice?
Is your practice 100% efficient from front to back? Are satisfaction levels through the roof? Is every single patient completing their plan of care?

If you said yes, you're officially invited to share your secrets on our podcast.
If not, you'll want to keep reading, because operational excellence is a business philosophy that's aimed at continuous improvement and eliminating waste. This flexible mindset can be a value driver for businesses of all sectors and sizes.
That said, there are a few key factors to consider:
Your goals. The aim of OE is to bring your whole practice into alignment. So, you must be able to clearly define and communicate the value you provide as well as your potential for improvement.
Your leadership. Creating a strong culture takes more than an organization-wide announcement or a blurb on your careers page. It must be modeled by your leaders, especially those outside of the executive suite. According to that KPMG report, "the role of middle management is in getting [the strategy of operational excellence] from the operational realm to becoming cultural." Do you have the right team in place to support a culture shift?
Your timeline. Leading your practice to operational excellence isn't an overnight shift. Consider whether you have the time or capacity for major cultural and operational changes. If you're ready to take the next step in the acquisitions process, any disruption–even in the right direction–should be carefully considered.
Driving Continuous Improvement in Your Outpatient Practice
How can your PT, OT, SLP, or multi-specialty practice capture the attention of investors? There are a few core aspects of your practice that will contribute to operational excellence and your long-term profitability:
Operational excellence has been described as a philosophy. A mindset. A culture.
That said, your senior leaders and clinicians should be strong champions of OE, setting expectations for its adoption and modeling self-reflection and learning behaviors. KPMG suggests that senior team members should step out of the role of all-knowing problem solvers to instead serve as coaches and facilitators. Supervisors would guide staff in the process of investigating problems and implementing solutions, creating a more resilient and flexible team.
An added benefit of creating a culture of continuous improvement? Higher retention and lower burnout. A study on burnout in physical therapy showed that employees who understand their worth and role within an organization are less likely to experience disengagement.

Electronic Health Records (EHR) System 
EMR and EHR systems are the technological backbone of many medical practices today, as a digital workspace and repository for processing patient data and health information.
Today's most robust EHR solutions—like Raintree's certified EHR for rehabilitation therapy—go beyond collecting patient data. On the providers' side, EHRs can provide time-saving features and configurability, to improve clinical workflows.
To create more value for patients, practices can also connect their EHR with a patient engagement suite that elevates the digital patient experience. For example, Raintree offers a patient portal, secure two-way texting and communications features, appointment request and cancellation, and telehealth capabilities.
Billing and Revenue Cycle Management
Traditionally, billing and revenue cycle management (RCM) processes have been paper-based and manually intensive, leading to errors and lost revenue. But today, practices have options. Rehabilitation practices can now rely on integrated billing systems to simplify key tasks, such as coding, document routing, claims management, and reporting.
To improve the patient payment experience, as well, Raintree's billing system provides digital eStatements. Preferred by patients, eStatements can be automatically sent as secure links via text or email, and accessed in the patient portal.
For practices with more complex needs, outsourcing the revenue cycle management process can lead to improved efficiency, too.
To achieve operational excellence, you must continually examine your practice's performance and seek ways to improve at every level.
Business intelligence solutions provide practice leaders, owners, and CEOs with the data to inform critical decision-making. With a comprehensive business intelligence platform, you gain insights into clinical, operational, and financial trends to keep tabs on the state of your practice and fine-tune your operations to accelerate productivity.
Boost the Value of Your Practice With Operational Excellence
Today's most profitable rehabilitation therapy practices go beyond clinical excellence, instead creating operational excellence. You can emulate their success by putting the principles of OE to work in your practice.
While the investment market may fluctuate, the true value of your business can be defined by how efficiently you create value for your patients. When the time is right, operational excellence will set you apart from the rest.
To create lean and scalable processes, having the right technology in place is critical. At Raintree Systems helps rehabilitation practices grow by providing top-performing solutions for EHR, RCM and billing, patient engagement, and business intelligence. As a comprehensive platform for rehab therapy, Raintree can help you create the efficient workflows that are foundational to operational excellence.

Looking for an all-in-one platform that supports your outpatient therapy practice, from implementation to rapid growth? Look no further. Request a demo today!