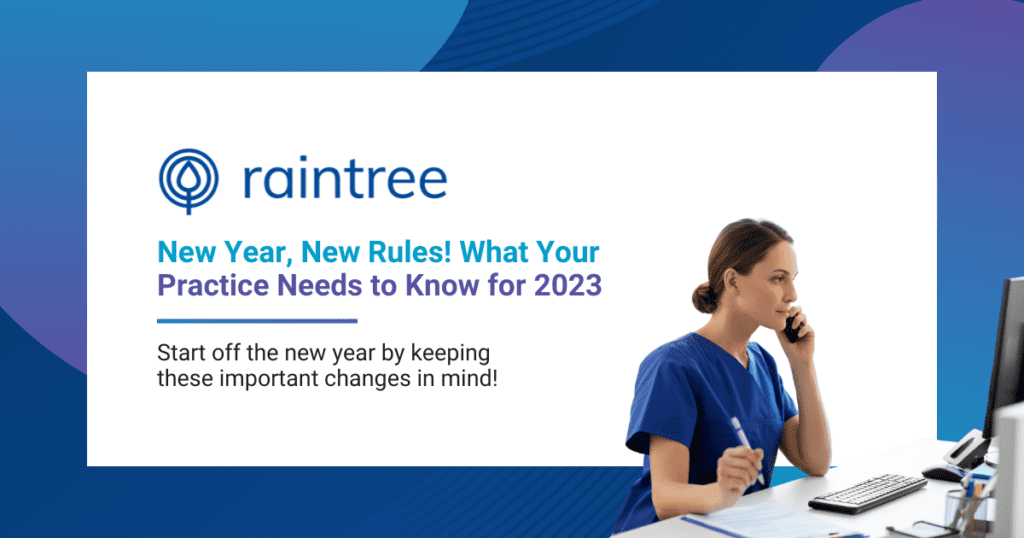 New Year, New Rules: What Your Practice Needs to Know about the 2023 Final Rule
Happy New Year! Let's start off 2023 with a quick refresher on the important changes happening to the healthcare industry due to the Centers for Medicare & Medicaid Services (CMS) 2023 Medicare Physician Fee Schedule Final Rule.
Conversion Factor Change
On January 1st, 2023, the conversion factor will be decreased from $32.61 to $33.06, making this cut a 4.48% reduction in payment. This financial change will especially impact practices that offer care in more rural areas where the number of Medicare beneficiaries may outweigh patients on different insurance plans.
While this is by far one of the most impactful changes that the upcoming year brings, there are other Final Rule policy updates and changes to take note of as well.
Telehealth Services
Several telehealth services that were made temporarily available due to the public health emergency (PHE) have been adjusted to be available for up to 151 days after the PHE expires, with a possibility for further extension. This allows CMS more time to gather data to help determine if these services should be permanent additions as well as aligns with the Consolidated Appropriations Act of 2022 (CAA 2022) that ensures a smooth transition of services after the end of the PHE.
The temporary telehealth provisions that fall under this extension include:
Allowing telehealth services to be furnished in any geographic area
Allowing certain services to be furnished over audio-only telecommunications
Allowing PTs, OTs, SLPs, and audiologists to furnish telehealth services
Additionally, the Telehealth Originating Site Facility Fee has been updated and can be found with the list of Medicare Telehealth List of Services on CMS.gov.
Therapy Thresholds Increased
Outpatient Therapy Thresholds have been increased to $2230 for PT and SLPs and to $2023 for OTs. The medical review threshold remains at $3000. Interested in learning how to take advantage of these thresholds? Check out our blog post on how to use the KX modifier so you don't miss out on potential revenue.
Traditional MIPS Updates
CMS is keeping the same data completeness requirements for the 2023 performance year, meaning providers will need to report at least 70% of eligible encounters for the quality measures they report. Here are a few additional facts from the 2023 Final Rule:
75 point minimum performance threshold
As established in 2022, there is no longer an additional performance threshold for exceptional performance
No changes to MIPS performance category weights
Raintree Has You Covered!
With significantly reduced payments on the horizon, it's more important than ever to take steps that can make your practice's revenue airtight. For more information on how to ensure that your practice is taking full advantage of automated, accurate, and fast payments, check out our resources:
Bracing your practice against these Final Rule budget cuts is only a part of future-proofing your business. This 4.5% payment cut is indicative of CMS's intent to continue reducing payment up to 9% by 2024, further preventing Medicare beneficiaries from receiving the care they need and forcing providers to make tough business choices that put patients at risk.
By encouraging your Member of Congress to support The Supporting Medicare Providers Act of 2022, we can fight for an additional 4.42% to the conversion factor for 2023, stabilizing practices under financial duress as a result of these budget cuts and continuing to offer quality care to Medicare beneficiaries.
With Raintree's strategic partnership with the Alliance for Physical Therapy Quality and Innovation (APTQI), we share a common goal to provide patients with efficient and excellent care. Take a stand with us and urge your Member of Congress to support and pass The Supporting Medicare Providers Act of 2022!