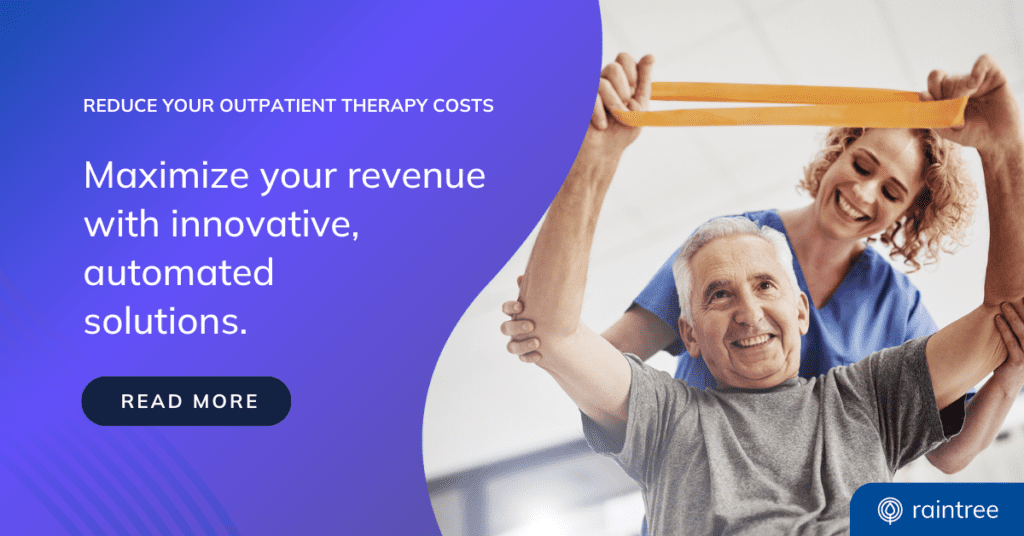 Reduce Outpatient Therapy Costs Through Optimized RCM
As the healthcare industry continues to expand, outpatient therapy and rehab practices are constantly looking for ways to reduce costs while maintaining quality of care. Let's look at the ways your organization can increase cash flow and reduce expenses by streamlining your revenue cycle management (RCM) processes.
Identify Areas of Opportunity in Existing Workflows
Every process has room for improvement, and RCM workflows are no exception. By performing periodic reviews of existing processes, your therapy and rehab practice can regularly identify these opportunities and take steps to enhance workflows. From routine staff training to implementing new technologies, here are a few processes that your organization can review to improve your revenue cycle management.
Refresh Personnel on Best Practices and New Techniques
Staff training is the best way to incorporate new techniques and workflows into your organization's routine. Not only does training allow your team members to practice using new features in your electronic medical record (EMR) platform, but it also encourages employee feedback. This can foster an environment where staff members feel they can suggest additional functions or processes to improve workflows further, creating a workspace that promotes healthy relationships and innovation. What's more, you can assess your training program's effectiveness by evaluating your team's comfort level and the success of your practice.
Review Denied and Rejected Claims
Denial or rejection of your medical claims means lost revenue, and in turn, each erroneous claim can gum up the works in your expected reimbursements and revenue cycle management. Scheduling periodic meetings for denial management can help identify a potential common cause and target it for correction. By taking the time to review and understand the reason behind your denied or rejected claims, your practice can gain better insights into what needs to be improved within your own processes to avoid the most common problem points in the future.
Better yet, if your practice has access to a fully automated and streamlined RCM system, this reviewal process can be optimized even further by filtering denied and rejected claims by error type and payor. By implementing a custom coding rule that addresses the established criteria, your therapy and rehab practice can increase the number of clean claims faster than ever!
Research New Technologies
For your organization to flourish, you'll need a solid revenue stream. This means you'll need to increase the number of clean claims you submit and boost your practice's overall efficiency – from direct patient care delivery to the software used to manage your electronic health records (EHR), staffing, patient collections, and revenue cycles. Your digital solutions must keep up and grow with you. Make it a point to research new technologies such as Raintree's All-In-One EMR.
Tackling Common Problems with a Third-Party Medical Billing Software and Services
Do you maintain your RCM and billing processes using a patchwork of solutions? Consider merging your workflows by outsourcing to a trusted third party.
Technology Hodge-Podge
Suppose you use a pieced-together mashup of various systems and programs to manage your RCM. In that case, you're likely having trouble managing your platform, and it's costing you. This becomes especially apparent when one platform has an incompatible update with any other software in use, which can quickly fall apart into an IT nightmare!
Furthermore, when you have a myriad of programs to handle your automatic processes, it's more likely than not that several of your software solutions have overlapping functionalities. The time and resources that goes into juggling which features of which platform would best suit your needs over another can also cause a strain on your finances, not to mention the constant staff training!
Eliminate Redundant Systems
Why do so many therapy and rehab practices choose to cobble together an RCM solution through several different programs? Simply put, the technology hasn't always been there. Fortunately, modern solutions now offer more features than ever before, eliminating the need to balance platforms and effectively consolidating workflows into a single program. But what about organizations that are still struggling to meet elevated patient expectations, counter a lack of staff, and reduce costs?
Outsourced medical billing services can increase cash flow through an improved billing process that submits clean claims promptly without putting added stress on patients and staff. In fact, twenty-four percent of RCM executives actively seek to eliminate redundant systems by engaging an RCM partner rather than maintaining an in-house billing department – and it's why to see why! Third-party partners can implement digital self-service tools to help providers meet consumer expectations while also reducing costs and improving revenue capture.
Not sure if this is the right step for your therapy and rehab organization? Read more about outsourcing medical billing services in our guide.
Introduce Automation into Manual Processes
Modern RCM systems use a lot of automation, but some therapy and rehab practices still cling to their manual processes, leaving their organizations open to potential human error. But it doesn't have to be that way! Here are a handful of workflows that technology can optimize:
Automatic coding based on provider documentation
Real-time status updates to track submissions and claims processing
Business analytics to track revenue trends
Automation streamlines bill processing and reduces claim denials, getting you and your staff paid faster and boosting your bottom line. By investing in a solid RCM system, you can foster positive relationships between your office and your payors.
Raintree's Interoperable RCM and Billing Platform
Providing therapy and rehab professionals with the digital solutions they need is the driving force at Raintree. Our software-as-a-relationship approach provides your organization with the tools therapists need to deliver quality care while keeping costs low. In light of recent Medicare budget cuts, maintaining cost-effective operations is more challenging than ever. That's why we offer totally configurable software solutions that can seamlessly integrate with existing platforms or give providers the ability to transition to our own all-in-one EMR system.
Why switch to Raintree? Because we believe that every therapy and rehab organization should have the opportunity to deliver quality care that benefits patients, providers, and staff. Contact Raintree today to learn what our system can do for your therapy or rehab organization.