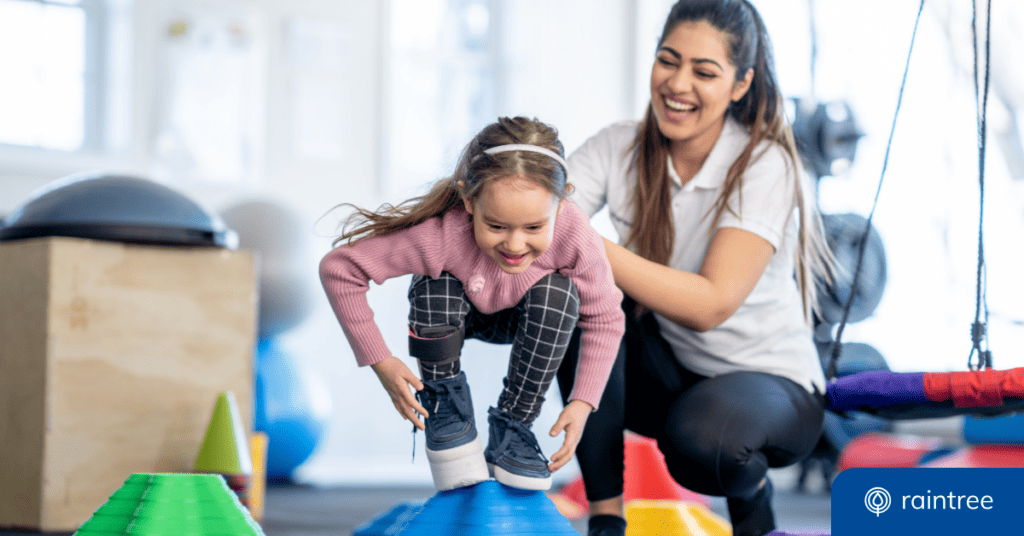 Ivy Rehab is the largest pediatric physical therapy network in the U.S., having grown to 118 sites across 11 different US states since 2011.
Pediatric therapy is a challenging business for both investors and individual clinics, but Ivy Rehab has found a way to make it work and make it profitable. To explore the secrets behind their success, we invited Troy Bage, CEO of Ivy Rehab for Kids, to sit down for an episode of the Therapy Matters podcast.
Listen to the full podcast episode or read Bage's key advice for starting and expanding your pediatric therapy practice.
What to Know Before Starting a Pediatric Therapy Clinic
For those who are new to the world of pediatric practice leadership, Bage offers two pieces of advice.
Pediatric therapy is a tough field with a big heart.
The primary payer in pediatric therapy is usually Medicaid, so it's a business that has, from the outset, low reimbursement and lower productivity. That's a challenging environment to start a business in, and one of the reasons why there are so few pediatric physical therapy clinics across the country.
So, how can a pediatric therapy practice manage to thrive? According to Bage, Ivy Rehab for Kids creates a powerful foundation for success by supporting clinical education, teammate development and pathways for professional growth among their staff.
Understand the key drivers of your business.
A pediatric therapy business may have as many as 50 different economic drivers, but only a handful of them are really propping up the business.
"We've found that the most productive clinicians tend to get the best clinical outcomes, better quality scores, and better arrival rates," says Bage. "More productive therapies generally produce better quality outcomes, better engagement from patients, and ultimately more repeat business and word of mouth."
Advice on Pediatric Therapy Practice Acquisitions
Looking to expand your business by acquiring a pediatric practice? 
The Ivy Rehab for Kids CEO says "culture is king" when it comes to acquisitions. It's a very common thing for larger companies to buy a smaller one and then try to convert the acquisition's culture to the larger company's. He says the attitude of many larger companies is, "We're going to acquire you, and we're going to make you better, and we're going to make you like us, because we're way better than you are. That's why we're acquiring you."
Bage says, "I learned that that's not how you want to build a culture. You want to build a place where people feel included and part of the solution and part of the future."
Innovative Treatments for Young Patients
Troy Bage is a physical therapist himself, and says one of the things that has truly surprised him during his time in pediatric therapy is the passion and dedication of providers to continually improve treatment methods.
One example, he says, is how teammates came to Ivy Rehab's management and wanted to begin offering hippotherapy, a type of therapy that includes horseback riding. At Raintree, we've seen our pediatric therapy practice clients deliver innovative care by offering treatment in settings outside the typical office space—from schools to pools.
Bage says that that offering hippotherapy "wasn't necessarily the best business move, but it certainly was something that [the team] really thought about, and they found ways to make it work within our model. And that just warms your heart when you see people that passionate about what they do." 
Workforce Trends in Pediatric Therapy
As an emerging private practice owner, you should make every effort to understand the state of the job market and the needs of job-seekers. Hiring the right pediatric therapists can set your new business off on the right path, but that's only half the battle. As Bage points out, you also need a plan to improve retention and reduce attrition.
Bouncing Back From the Pandemic
The past four years have seen a major shift in the rehab therapy workforce. "During the pandemic, we saw a significant drop-off in the number of clinicians–anywhere between 10-15% stopped practicing." Bage said.
And the field hasn't bounced back completely. "We're still in recovery, but coming out of the other end in a positive way."
Evolving Needs in the Pediatric Workforce
Across the board, Bage has seen an increased demand for flexible work schedules. He's seen the most change among recent graduates and those with 5-10 years of experience who are beginning to start families.
Ivy Rehab for Kids has been "seeing more therapists coming out of schools [and] new graduates asking, 'How many hours do I need to work to be able to get benefits?'"
With rising rates of burnout in physical therapy practices and other outpatient clinics, staff are understandably looking for ways to create a healthy work-life balance. However, shortened schedules means more hours to fill in your practice's schedule, so that you can support current and new patients.
In addition to new grads, you should consider the changing needs of new parents. Bage points out that a large percentage of professionals in physical therapy, occupational therapy and speech therapy are women.
In fact, nearly 90 percent of speech-language pathologists are female. Among those who choose to start a family, he has seen many leave the profession altogether for more flexible work environments.

Leading Your Practice to a New Normal
Changing workforce demands can change how you run your practice—for the better. As you take steps to start and run your practice, ask: How can we create a more flexible, accessible experience for both providers and patients? 
For Ivy Rehab for Kids, the answer has been to embrace part-time and remote work, while creating broader operational efficiencies.
Is it possible to offer pediatric therapy in a remote or hybrid setting?
Absolutely. Though some treatments will always require in-person attention, others adapt well to digitization, like speech therapy. And for those of us who were in the field during the Covid-19 pandemic, we know that high-quality virtual care possible—but it's not always easy.
The solution is in your tech stack. You'll need practice management software and electronic health record (EHR) system for pediatric therapy that can enable telehealth appointments, automate manual processes, and help you generate revenue faster.
Operational improvements can mean that, for providers, there are more options to find balance. And it also provides a dual-pronged solution to filling those empty hours and retaining more of your seasoned staff. "The digital piece might find a way to bring some of them back into the workforce on a part-time basis, so they don't have to leave their home and spend 8 hours in a clinic, but can see some patients from a distance," Bage says.
Combining Pediatric Therapy and Applied Behavior Analysis
Looking to the future, Bage thinks that there is a lot of room for pediatric practices like Ivy Rehab's to integrate applied behavior analysis business (ABA) services. Physical therapy, occupational therapy and speech-language pathology all work very well together with autistic children. Bage says that offering all these therapies in one site provides incredible benefits for parents. 
"These are parents that have a lot going on in their lives and they're trying to manage all their schedules of kids' appointments, and they can come into one clinic and get all their therapy needs met," says Bage. "It's fantastic."
The key is to think of ABA as part of the full picture, and not just another ancillary service. "We see ABA therapy and pediatric therapies as both core businesses for us that marry together really well."
Choosing the Right Software for Your Pediatric Therapy Practice
At Raintree Systems, we help adult and pediatric outpatient therapy practices grow by providing top-performing solutions for EHR, RCM and billing, patient engagement and intake, telehealth, and business intelligence.
Learn how our comprehensive platform for rehab therapy can propel your practice forward. Schedule a demo, today!