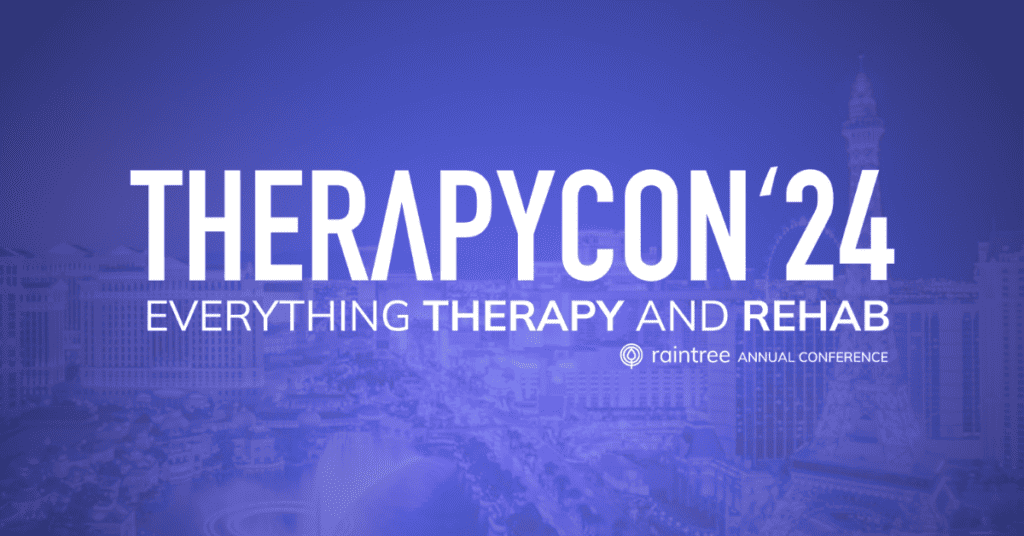 This isn't just another conference.
Growth-oriented professionals in the PT, OT, SLP and multi-specialty rehab therapy should plan to attend TherapyCon in 2024.
Whether you're seeking professional growth, new connections, business-boosting advice, or simply an unforgettable experience, TherapyCon '24 promises it all and more.
Picture yourself absorbing cutting-edge insights by day, and making memories in the electric glow of Las Vegas by night. Are you ready to be part of the magic? Here's what you can expect at TherapyCon '24.
The TherapyCon Experience
Jump into TherapyCon '24 with both feet! You're in for an adventure that's so much more than just lectures and seminars. TherapyCon is your ticket to a world where learning meets Las Vegas fun!
Experience Las Vegas.

The glitz, the glamor, the unforgettable experiences—Las Vegas is more than a backdrop, it's a highlight in its own right!

World-Class Exhibit Hall. Step into a hub that's buzzing with innovation in rehab therapy. Discover products and services that are at the forefront of PT, OT, SLP, and multi-specialty therapy.
Games, Contests, and Shenanigans

(yes, shenanigans) all day. And when the day ends, the after-party begins. Ready to dance the night away?
Individual Growth and Industry Connections
At TherapyCon '24, the experience is all about you and your practice. Whether you're a newbie in rehabilitation therapy or a seasoned professional, there's always room to grow, learn, and connect. So, why not do it in style?
Keynote Speakers. Be inspired by stories of resilience and determination. These aren't just speeches; they're life lessons in using integrity as a compass and chasing what seems out of reach.
Networking.

Ever wondered how other PT, OT, and SLP pros tackle challenges? Here's your chance to trade stories, tips, and maybe a few laughs!

Immersive Learning.

Beyond the jargon and theories, these sessions are about equipping you for real-world challenges in rehabilitation therapy. Dive in and come out more enlightened.

Bootcamps. When we say "deep dive," we mean it. Explore specific topics in-depth, get hands-on, and soak up knowledge.
TherapyCon meets or exceeds attendee expectations year after year.
Attendees, including therapy executives, therapists, admins, front office, and support staff in attendance.
Keynote speeches, panel discussions, presentations, and peer-to-peer networking opportunities.
Valuable Practice Insights for Rehab Therapy
The world of rehab therapy is evolving, with new challenges, regulatory changes, and everyday opportunities to excel. Let TherapyCon '24 be your compass, guiding you through the latest news and greatest advice, ensuring you're always ahead of the curve.
Real-World, Actionable Insights.

Practical, real-world insights to ensure your practice doesn't just survive but thrives. Be it PT, OT, SLP, or multi-specialty therapy, we've got you covered.

Expert-led Sessions. Lean into sessions led by the best in rehabilitation therapy. Because when you learn from the best, you can become your best.
Conference Tracks.

Building a strong team is an art and a science. Tap into tracks designed to empower every member of your squad.

WKYUAN Roundtables. Let's get real. In these "What Keeps You Up at Night" roundtables, we'll discuss challenges, brainstorm solutions, and share stories about what works, and what doesn't. Sometimes, the best insights come from conversations over coffee (or maybe cocktails?).
Exclusive Experiences for Raintree Clients. If you're a part of the Raintree family, even better! Uncover expert tips and tricks, connect with fellow users, and get the inside scoop on solution updates.
At TherapyCon '24, it's not just about the 'what,' but the 'why.' Join us and become part of a movement that's shaping the future of rehab therapy.
TherapyCon is more than a meeting of the minds; it's where your professional and business goals take on a whole new life. By being here, you're participating in a community that values individual growth and the collective advancement of PT, OT, SLP, and multi-specialty therapy. 
Let's write the future or rehab therapy, together. Register for TherapyCon today!